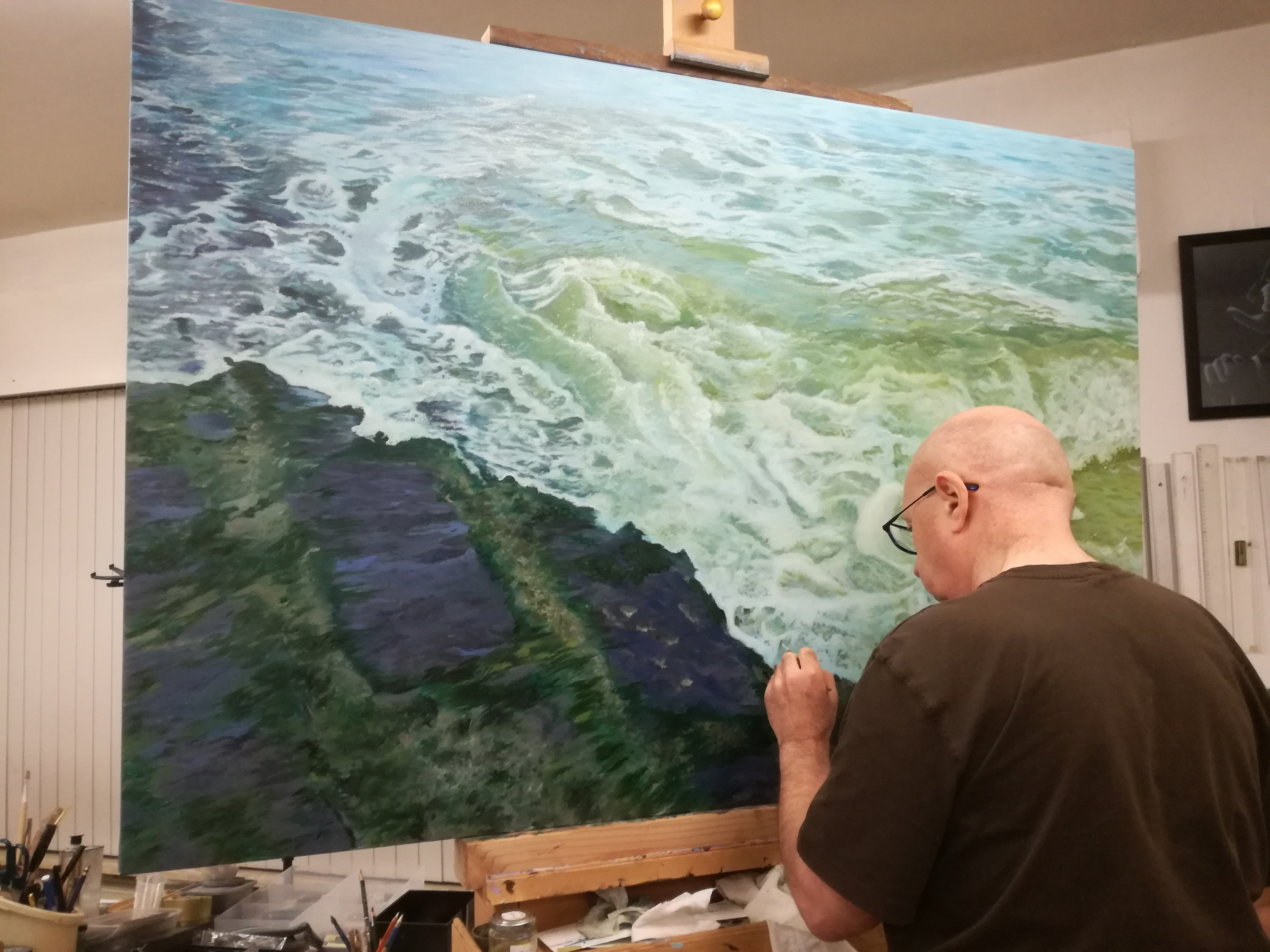 °1958, Aalst (Belgium)
Although he got a degree in Social Studies, early in his career Jef also studied ceramics and drawing at the Stedelijke Academie voor Schone Kunsten (Aalst, Belgium). He also taught himself to use the airbrush and became a successful airbrush and awarded automotive artist.
His professional airbrush skills soon led to a job at Trias illustration studio (Antwerp) in photo-retouching and realistic commercial illustration for the advertising and packaging industry.
In 1996 he left the studio to go freelance full time.
He became one of the main freelance artists for Disney Consumer Products and worked for the Disney Offices in Brussels, Paris and Frankfurt for many years.
Besides that he worked for international clients like Tupperware, Lotus Bakeries, Studio 100, Coca Cola, Donau Design, Frajodis, Mediamind,... just to name a few.
A portfolio of his wide range of commercial work can be viewed at
www.aeronaut.be
.
In 2018, Jef De Corte decided to return to his first love, painting in oil, and concentrate on a career in fine art. The hyper-realistic style in his oil paintings is also linked to his early years in commercial illustration, so he has come full circle...
His subjects are moments in time, objects of beauty and contemplation, encountered in everyday life.
Anything in ordinary life can become a source of inspiration. A reflection of a street light in a puddle after the rain ... the movement in the water of the river that resembles a person's changing opinion ...
Jef is currently working on several series of paintings:
LANDSCAPE SERIES:
A series of paintings around the river De Schelde which flows behind his garden.
RIPPLES SERIES
Ripples and reflections in the water, forever changing fascinating mirrors of reality leading into philosophical contemplations.
STREET LIGHT SERIES
A suddenly appearing reflection of a street light in a puddle after the rain became the start of a series of paintings around one of the most ordinary objects in our daily life. We know it is there and we rely on it for our safety, but we are not aware that such an industrial object also can have an intrinsic beauty if we are open to look at it.
Behind every painting lies a story, inviting the viewer's imagination to create his own.
Besides painting Jef is also a composer of music, and sometimes both go hand in hand.
2020
Workshop Charcoal Drawing, April 25 at De Gouden Pluim, Ter Mote 5, Nevele (B)
Visit ISCRAT website for information and register.
Sociaal Huis, Wichelen (B), Solo exhibition - until January 31, 2020
2019
Sociaal Huis, Wichelen (B), Solo exhibition - December 7  - January 31, 2020
CC 't Ankerpunt Serskamp (B), May 31 - June 9, group exhibition
2014
"Dreams Are Buried Here", World War I commemorative group exhibition - April 25-27
Screening of the movie by Scaldis, based on the 5 part music composition "Dreams Are Buried Here" by Jef De Corte, in collaboration with Achim Wierschem (Germany) and Robin Thomas Quin (UK/USA).
Kapel Bruinbeke, Serskamp (B)
2013
Open Studio & Exhibition, March 23
City Hall Wichelen (B), may-june, Retrospective Solo Exhibition
2012
Open Studio & Exhibition - February 5
2002 - present
Freelance illustrator & designer at Aeronaut bvba, Wichelen (B) - www.aeronaut.be
Commercial and licensed artwork (The Walt Disney Company, Tupperware, Studio 100, Lotus Bakeries, …)
1992
Belfortcrypte, Aalst (B), December, "Relics" - Solo Exhibition
1992-1996
Hyperrealistic commercial illustration & photo retouching at Studio Trias, Antwerp (B)
1991
Winner of Silver Airbrush Award, 5th Crazy Car & Motor Show, Kortrijk (B)
1990
4th Crazy Car & Motor Show, Kortrijk (B)
1985 - 1994
Automotive airbrush artist
Het Laatste Nieuws, December 19, 2019 - Didier Verbaere
"WIE IS WIE? - Een greep uit het creatieve talent van Wichelen."
Cultuurdienst Wichelen, 2011
Tupperware "Transparent", 
Design Museum Gent, 2005 - Stichting Kunstboek
CHROOM & VLAMMEN MAGAZINE, Vol. 10, August 1991
Jef De Corte: "aeronaut" van de 20ste eeuw.